Comment:
The road into La Jungla is really rough, so not recommended for bigger rigs. Our Vanagon made it in with little trouble.
Your host here, Antonio, will let you park on his spacious and beautiful grounds where ever you like. He's also got good working English skills if your español is not so bueno. He also has some cervazas and cigaros for sale if you run out. Speaking of running out of crucial supplies, if you're running low on water ask Antonio if you can tap his crystal clear spring.
Beautiful and magical spot.
Blog: Robert Zimmerman
Place: La Jungla, Catemaco
Visited: March 25th, 2015
Location: 18.44528, -95.06737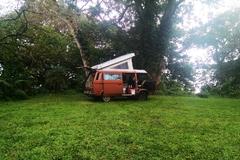 Uploaded Images:
Back