Comment:
Camping at the beach of the headland before Puerta Agua Verde. Fantastic as a campsite can be! In the evening we could buy Camerones directly from the fishermen and sailboats anchored in the bay.
We would, however,
strongly discourage people with similar sized cars to come here.
The last 50 meters to the beach are as steep and the road as full of deep bumps we partly slipped away. This was clearly too dangerous, but to reverse the road along the ocean was not possible.
Blog: abenteuertour.de
Place: Puerta Agua Verde
Visited:
Location: 25.52462, -111.07349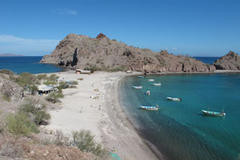 Uploaded Images:
Back