Comment:
Great place within the pine forest for 60 p per person it's the best and quietest night we had even if on a saturday night there was some music.
if you want to climb the volcano you can park there as the road is closed 100 m ahead.
they let us park the car in the camping area. the guard negociated this for us with the reception.
Blog: CocoFé
Place: Malintzi Centro Vacacional
Visited: August 7th, 2017
Location: 19.28057, -98.04370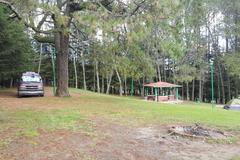 Uploaded Images:
Back