Comment:
Beautiful parking lot right next to the coffee plantation on the farm of Franz of Bavaria. We were allowed to use the toilet in one of the rooms. Since the property is situated in the center it's an excellent base for a stroll. Gracias Lempira is also a very good starting point for a walk in the park Montana El Celaque (admission: 50 Lempira / person). With a high car it is only possible to drive to Via Verde, with a low car you can get up to the Visitor Center. From there a great 3-4 hour hike to the Mirador de La Cascada Santa Lucia starts.
Alternative option for small vehicles:
At the Visitor Center of the National Park Montana El Celaque.
Blog: abenteuertour.de
Place: Finca Bavaria
Visited: January 1st, 2011
Location: 14.59154, -88.57928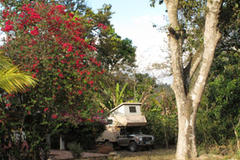 Uploaded Images:
Back