Comment:
very pleasant spot for the first day in Honduras. Large grassy field in front of the Balneario. The camping fee of $ 6 / person includes the admission fee for the Balneario. Clean toilets, cold outdoor showers. It's about five minutes by car to the ruins of Copan.
Alternative campsite:
Right next to the parking lot of the archeological site you can camp behind the Texaco gas station for 50 Lempira / day.
($ 7 / person)
Blog: abenteuertour.de
Place: Aqua Park Hacienda El Jaral
Visited: January 1st, 2011
Location: 14.86893, -89.06000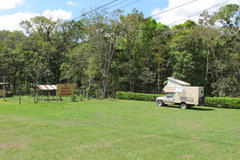 Uploaded Images:
Back