Comment:
What an amazing BC rec site!! we have been here 4 times .
Seen giant humpbacks literally jumping clear out of the ocean!
Orcas, tons of seals an sea lions! An lets not forget the porpoises!!
No cell signal.
decent size lots but not much for privacy.
This spot is for enjoying the wild life.
Giant eagles!!
a must see!
Blog: cranialrock
Place: Little Bear Bay Rec Site
Visited:
Location: 50.33832, -125.51762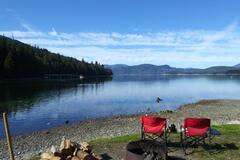 Uploaded Images:
Back