Comment:
FREE No facilities. Couple of bars / very basic eateries with baños in rundown Playa Las Palmitas just to the east.
Flat, level, grass and sandy area at end of beach track. Just you, a few palms, the wind, and far offshore lights from oil rigs.
Lots of debris on the beach but OK for swimming.
Blog: retyred.life
Place: End of the road
Visited: October 15th, 2021
Location: 18.19890, -94.19222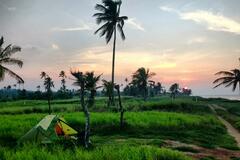 Uploaded Images:
Back