Comment:
Surprisingly quiet stay, although it is midweek in early March.
Ramadas, pit toilets, even a garbage drop-off area. Still free!
Be aware that the ramadas are scattered almost randomly and it's hard to see "roads" anywhere, so best to arrive during daylight.
Stay out of the ramadas in the wash at the end of the campground if you don't want to be constantly covered in the dust of passing side-by-sides.
Blog: instagram.com/jayne._.rose/
Place: Ocotillo Wells svra
Visited:
Location: 33.15082, -116.14971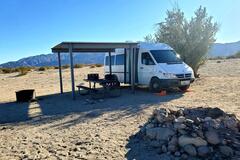 Uploaded Images:
Back