Comment:
We stayed here! We had our own little nook over looking the lake. Went for a dip, we were with a few other overlanders... we would recommend it!
Some say the showers are dirty... I don't think so. My standards aren't low... I am just happy to have clean water- I found it rather basic and refreshing if anything. Seemed to me like they were maintaining the property well.
Hope you get to enjoy it too!!
Blog: VANWIVES
Place: Bahia Atitlan Inn
Visited: March 23rd, 2020
Location: 14.74725, -91.16405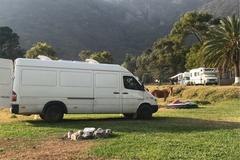 Uploaded Images:
Back