Comment:
Lovely area to see monkeys and birds a real jungle feel right on the lagoon. The road in is not that bad we made it in with a 21ft/ 2.8high front wheel drive :)
A few vines hanging down but they won't do any damage to your vehicle, it was raining when we arrived a little muddy but nothing to worry about, rec to come in daylight hours. Google maps coming from catemaco will take you to a closed gate keep going down the road a little further til you come to a sign on the right.....la jungla we posted a pic :)
Still 80 pesos per person. Bathrooms/ showers, pool and we also filled our rv up with water....you need your own hose. Boats available from the pontoon that will take you around the lagoon.
Great walking around the area to view more animals.
Blog: amadar
Place: La Jungla, Catemaco
Visited: March 8th, 2020
Location: 18.44458, -95.06748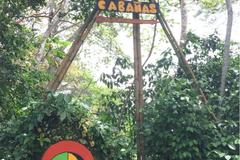 Uploaded Images:
Back