Comment:
Came here for a overnight stop to divide our drive and ended up staying three nights because of its beauty and tranquility and awesome climate. Camp or sleep in a 'treehouse' of this forest glade and enjoy the calmness.
Camping 40Q pp. Treehouses and rooms see attached picture.
2min walk from little lagoon to swim in (don't let the algae scare you off, they are much better than it looks).
Nice pila with roof to wash sishes and laundry.
Showers and toilets are cleaned daily. Showers are warm enough when turning the valve to a low flow.

Had the burritos at the restaurant and they were dissapointing (dry and 5mm thick tortilla). After that we did not want to try the burgers or any of the few other dishes offered. Not sure if they deserve the positive food posts on ioverlander.
You can connect your hose to the tap behind the toilets.
Power plugs to be found at toilets and underneath first 'treehouse'.
Bugs bit us only at dusk for an hour only.
Check out the water ram pumps (water pumps which use jist water flow and no electricity for pumping) 50m down river from the Non-swimming lagoon.
Blog: mischling
Place: Finca Ixobel
Visited: January 27th, 2020
Location: 16.30407, -89.42194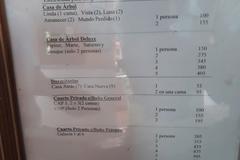 Uploaded Images:
Back