Comment:
we arrived at five pm...were greated by the owner, I suppose, through the barrs on the lock door....200p/ n
we were bitten. by mosquitos right away...On the second time around, after a week long vacation on isla mujeres, this place feels pretty good!
and with the first swimming pool with water!
Blog: nomade
Place: Trailer park and Cabanas Mecolco Inn
Visited: January 26th, 2020
Location: 21.21217, -86.80360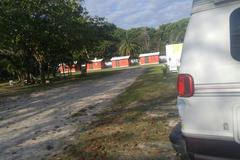 Uploaded Images:
Back