Comment:
we slep here in total blackness and silence...it's a wonderfull place if you seek calm.(except. on saturday...music until 5 am...)there is a cold shower.there is boat trips to see flamingos, but now is not the season.so,
there is not much to do around here, but there is an interesting village, at about 25km, las Coloradas, there is a pink lake! it's worth the 100 ppp!
Beware of the curved on that road....big trucks that go fast....
Blog: nomade
Place: El Balneario Chiquilá
Visited: January 24th, 2020
Location: 21.59621, -88.14529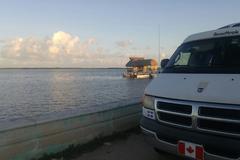 Uploaded Images:
Back