Comment:
The beach was so nice we ended up spending over a week. The place felt safe and had lots of other overlanders around. At least three rigs on any night and as many as ten on the weekend.
The toilets mentioned in other reviews were destroyed by a storm, so be careful walking around in the bushes! A few people came by pedaling lobster, scallops and shrimp. There was enough tellcell reception for Instagram and phone calls.
There are several garbage cans and on Friday morning the guys driving the garbage truck came by asking for 100 pessoes per night. At first we refused but after they took the garbage away we ended up giving them 100p. Some other locals told us after that the beach is free and that they were just looking for some beer money. They came back a few days later and did not ask for money.
The west part of the beach is fine for any size rig but the east end gets pretty soft. There was lots of room for our 42 foot bus.
On our last night banditos rolled by late at night and stole the rims and tires off our 20 dollar bikes along with a pair of broken flip flops.
Blog: instagram.com/laststopalaska
Place: Juncalito Beach
Visited: January 13th, 2020
Location: 25.83155, -111.32841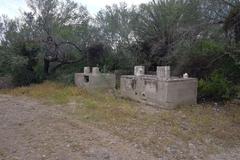 Uploaded Images:
Back