Comment:
What an amazing free spot. It's definitely been a highlight of our trip waking up to the sunrise at the golden gate bridge. We spent three nights here with no issues in our 40 foot bus. There were rigs of every kind here from moving trucks to rental RVs to vans to unimogs.
As others suggested it's best to clear out during the day and park at Marina Green parkinglot which is walking distance to everything downtown.
Parking got much busier on the weekend and some of the RVs were double parked Saturday morning.
Theres a water faucet outside but you'll need a sillcock key to turn it on.
I thought that my time in Asia had hardened me in the ways of filthy bathrooms, but nothing could've prepared me for this.
Blog: instagram.com/laststopalaska
Place: Vista Point San Francisco
Visited:
Location: 37.83300, -122.48005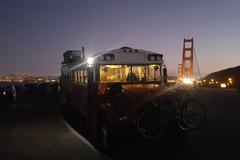 Uploaded Images:
Back