Comment:
it's a nice quiet place, with farm animals next door. Easy access which let's you skirt driving thru town if you are bigger or towing. Kids are great and leave you to yourself while you are parked. Close enough to bigger towns, and a Toyota dealer (45 mins away).
Still need to get the water turned on, since I am the only one here.
For a nice little spot to chillax for a few days, I can recommend them.
Blog: Chilly
Place: Hogar Infantil
Visited: December 4th, 2018
Location: 16.77603, -93.38405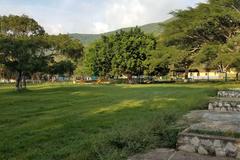 Uploaded Images:
Back