Comment:
Guided by IOverlander update we came to Bahia Del Lago to find a place to park and camp with rooftent.
We paid 60 Q to stay here for one night or 2 pearsons and a SUV with tent. Could use showers, water, toillets and electricity. Even good wifi at the hotel lobby.
You park and camp on a grassy place with a perfect view of the lake.
This place is reached when you come down the road, before you reach the city. It is a little road maybee 500 meters before The town. A good reference is the entrance of a big resort.
Yo can use also the pool if you ask.
Blog: viagemfamilia11
Place: Bahia Atitlan Inn
Visited: April 6th, 2019
Location: 14.74741, -91.16426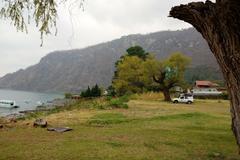 Uploaded Images:
Back