Comment:
30p per peson to enter site (green bracelet). 35 per person to camp with our truck camper in the lower (level) parking lot (to your left before reaching the main area), quiet night only ones around.
Very beautiful waterfalls. We were able to take our 2 little dogs up with us. Quite a lot of stairs up to the top but the view is gorgeous! We went up right at 0800 and we were the only ones there.
Ziplines available for 150-200pesos depending on the length of the line.
Baños with flush toilets and toilet paper available throughout park. One cold shower available in the right side of the mens bathroom hut by the upper parking lot. Did not check the wifi situation.
Blog: jille86
Place: El Chiflon
Visited: February 9th, 2019
Location: 16.18698, -92.27569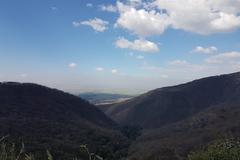 Uploaded Images:
Back