Comment:
Our favorite campsite thus far. We paid 330 pesos/night for our family of four.
It is very hot and humid so the clean, large pool was perfect.
The ruins are about a 1.5 km walk.
My husband and I both got a massage for 400 pesos each.
Our family enjoyed eating at the restaurant on-site.
There are not a lot of tiendas or markets close by so bring food if you don't want to eat at restaurant.
We saw a toucan at the campsite and heard howler monkeys. At the ruins we saw howler monkeys and macaws.
WiFi only works at restaurant so you'll see lots of people sitting at their nice tables using WiFi.
Blog: vanablog.com
Place: Maya Bell Campground
Visited: March 23rd, 2018
Location: 17.48752, -92.03856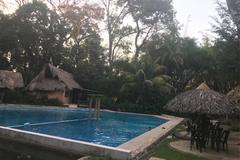 Uploaded Images:
Back