Comment:
Beautiful place, we enjoyed taking our 25'' RV near the archaeological site. Camped near the lake 'pool'.
Enjoyed walking around, got free WiFi in front of the school. Peaceful and full of beauty, it's such a perfect way to end our Mexico trip which was surprisingly excellent and we enjoyed a lot.
25 pesos per person the entrance which included the night.
Blog: acrosstheamericas.net
Place: Lagos de Colón
Visited: January 30th, 2018
Location: 15.82749, -91.89544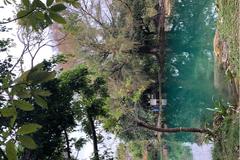 Uploaded Images:
Back