Comment:
The GPS coordinates provided here are in the middle of Ocotillo Wells State Vehicular Recreation Area but not at the developed campground., which is about 1 mile west.
However, camping is allowed in most areas of the park for 30 days per calendar year. No permit, pass, or sticker required. No reservations, no fee. See park maps (available at Discovery Center) for restricted areas.
The area is subject to flash floods. So be aware of weather forecast.
We came in late and stayed on the big place close to restrooms and showers. The GPS coordinates are:
N 33 9 259
W 116 10 011
Warm showers available for everyone. $ 0.25/1 minute.
Free WiFi only available in the area of the Discovery Center.
Blog: albatros-on-tour.de
Place: Ocotillo Wells svra
Visited:
Location: 33.15184, -116.15380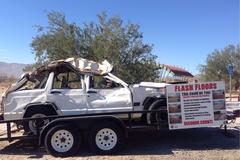 Uploaded Images:
Back