Comment:
As of this post, this is the only campground in this area although we have heard someone is making an RV park close to Encuentro Park soon, but as for now, there isn't a lot of choice if you want to be far from the streets and be comfortable living long term in a camper.
We have been living in and around San Nicolás for a year and have lived in these campgrounds both as tenants to the apartments they have here and in our camper full time for a total of about 4 months.
Pros: Best showers I've had in Mexico. The workers keep the place clean and are attentive. The place is lovely however, I do not like manicured lawns so much, but what can you do?
Cons: Expensive. We are paying per month so that knocks the price down from $300 per night to $116 for a couple. They actually have rental units for as low as $4500 and the Airstream unit can be rented for $1800 a month so I don't know why the camping spots are priced the way it is. In San Cristóbal, you can rent a small house for $3500 easily. So it's obvious they target the gringos because most of the locals can't afford that. And the internet sucks. I wish they would just get a dedicated Megacable account and not use an extender from the owners internet across the street.
While we were here, there was an incident that happened surrounding covid. I personally don't care about the stupid virus because it's proven to be not the threat everyone makes it out to be, especially in Chiapas where the numbers are super low... 0.01% deathrate. Dengue is much more dangerous and contagious that we got from Puerto Escondido. Long story short, there were people kicked out from the campgrounds who were living in the apartments for gossipping about the owner having covid as well as the family who fought with the owners who also threw a cement brick through the office window. It was such a telenovela and the police got involved. Luckily no one got hurt because like I said this virus is stupid and not worth fighting about.

Blog: psychedelicspirit
Place: Rancho San Nicolas
Visited: July 29th, 2020
Location: 16.737261, -92.628223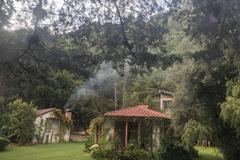 Uploaded Images:
Back